Faith & Works Student Discipleship Class
Faith & Works Student Discipleship Class
Sunday, January 21, 2018

Important: This event has already occurred.

View Next Date
8:30AM - 9:15AM
MCA Youth Room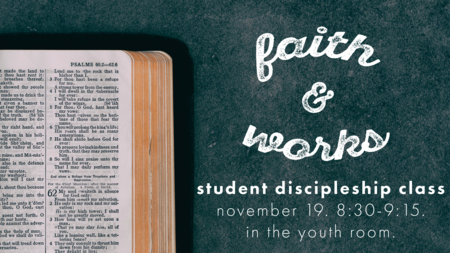 The Faith & Works Student discipleship class is a small group meeting that happens every other week on Sunday morning for 3 months. During this time students will wrestle together through the letter to the Galatian church, digging deep into the grittiness of the letter and what it means for our lives today. Students will be expected to participate in discussion and to do the reading before each class.
During this Discipleship class you will:
Go through the entire book of Galatians with a Study Guide.
Learn about the history, context, and themes of the letter.
Be challenged to interpret scripture in light of your own life.
Looking at intersection of Scripture and Life.
Have the opportunity to present a short devotion on a section of scripture.
Grow in your faith in a small group setting.
Who can come? Any student in Grade 8-12 who wants to grow deeper in their faith.
What do I need? A bible, pen, and $10 (this is for the E-Book which you will purchase for the Galatians walk-through). You will recieve a free Journal at the class.
When is it? 8:30am-9:15am before church.
November 19th - F&W Class - Historical Context // Read all of Galatians in one sitting
November 26th - 1:1-9 // Chapter 1
December 3rd - 1:10-24 // Chapter 2
December 10th - F&W Class - 2:1-10 // Chapter 3
December 17th - F&W Class - 2:11-21 // Chapter 4
December 24th - 3:1-14 // Chapter 5
December 31st - 3:15-25 // Chapter 6
January 7th - F&W Class- 3:26-4:7 // Chapter 7
January 14th - 4:8-20 // Chapter 8
January 21st - F&W Class - 4:21-31 // Chapter 9
January 28th - 5:1-15 // Chapter 10
February 4th - F&W Class - 5:16-25 // Chapter 11
February 11th - 5:26-6:5 // Chapter 12
February 18th - F&W Class - 6:6-18 // Chapter 13
Where is it? Upstairs in the Youth Room.
What is the E-Book Resource I need to buy? Galatians For You By Timothy Keller.
Available Files to Download
To download, right-click the file and select "Save link as".
Ministry MCA Youth
Return to Events
---