Oasis - It's For The Birds!
Oasis - It's For The Birds!
Thursday, May 25, 2017

Important: This event has already occurred.

11:30AM - 1:30PM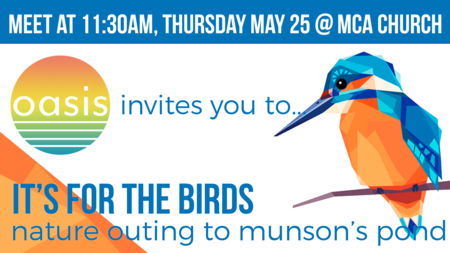 OASIS* invites you to…..
IT'S FOR THE BIRDS!
NATURE OUTING to Munson Pond
Thursday, May 25
11:30a.m. sharp - Meet at the church
Rides provided
* Includes Bag Lunch and Water
* Bring hat, jacket, sun screen, camera and binoculars.
Munson Pond is a well-known bird sanctuary off Benvoulin Road adopted and cared for by the Kelowna Christian School. Come prepared to either sit and chat or walk a short, easy distance to enjoy the natural surroundings.
Hear more about KCS and how students have become involved.
Nature Guide & Birder: Gerald Jansen
Tickets - $5
on sale May 7, 14 and 21 in the foyer
*OASIS – Retirement-age Adults. being refreshed . refreshing others
Ministry Oasis (Retirement age adults)
Return to Events
---