Oasis Okanagan Lake Boat Cruise
Oasis Okanagan Lake Boat Cruise
Thursday, August 24, 2017

Important: This event has already occurred.

12:00PM - 2:00PM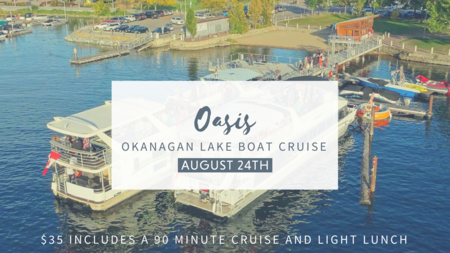 Join the Oasis crew on a relaxing afternoon on the water.
Date: Thursday, August 24
Boarding time: no later than 12 noon
Sailing time 12:30p.m.
Cost per person: $35 includes a beautiful 90 minute lake cruise and light lunch.
Tickets sales in foyer August 6, 13 and 20 Get your ticket early!
This is another great opportunity to reach out and invite friends to come along and enjoy a beautiful afternoon together on the lake.
Ministry Oasis (Retirement age adults)
Return to Events
---