SPARK Pre-Teen Conference
SPARK Pre-Teen Conference
October 13 - 14, 2017

Important: This event has already occurred.

1:30PM - 10:30PM
Christian Life Assembly - Langley, BC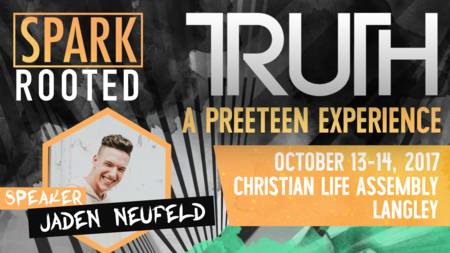 Mark your calendars for this year's pre-teen conference trip to SPARK in Langley, BC. It is a crazy two days of friends, awesome activities, break out hubs, amazing music and speakers, growing our faith, and so much more.
COST:
Earlybird - $90 (ends Sept 26th, 2017)
Regular - $110 (ends Oct 6th, 2017)
This will cover your registration fee along with food, transportation, and accommodations.
Deadline for Registration is October 6, 2017
If you would like to register your child for this event please do so through our church so that we can make the appropriate arrangements for accommodations, transportation and leaders/chaperones. Just download the registration form that you can return back to Pastor Becca.
For more information on this event you can check out the website: www.sparklive.ca
Available Files to Download
To download, right-click the file and select "Save link as".
Ministry Pre-Teen
Return to Events
---