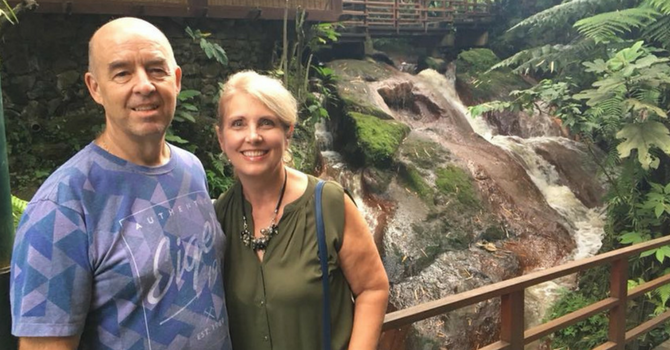 To our Family at MCA Church, from the Dycks…
We are so thankful for you…we have done a lot of life together here in Kelowna, and vicariously from half way around the world in Indonesia.
It would not have been possible for us to spend the last 6 years in Bandung, working in the International Church, with people from many nations and varying spiritual journeys, had it not been for YOU! You have interceded for us through deep challenges and we have experienced God's presence, provision and supernatural work. This fellowship has provided finances for our vehicle, living expenses, biking ministry initiatives, church meeting space upgrades, help for families with children in cancer treatment, soccer boots for boys in prison, cheering us on in a new international church plant…to name a few things.
You have trusted us with this unique ministry, and given us opportunities to share God's work, partner with MCA children's ministry in Kids Day Camp. Friends have opened their homes, hosted us, fed us…and been a safe place to land and belong. Sometimes you have just been there to listen, and attempt to understand our very different life. MCA leadership has been our sending leaders, and have affirmed our ministry, along with the Canadian C&MA, who have entrusted this expression of the Church to our care. This has been a privilege and has facilitated ministry to and with international workers and their families, partnering to reach least reached people groups.
We are changed for a lifetime, God's Spirit has been shaping our lives – never the same, in good ways. We are trusting that these experiences and discipling will prepare us for the changes we are facing.
It's a new season, the season in Indonesia is ending and a new season will begin for us in Abbotsford. I have accepted a pastoral position in a C&MA church in Abbotsford. There have been sad good byes in our Bandung home and a boat load of transition pieces to manage. One by one God is caring for the myriad of spinning plates. We are trusting you will join us in this next season, by sending us again, praying along with us, and being the home we can always return to…please!
Thank you, and thanks be to God for the wonderful gift of his Son.
Terry and Sandy